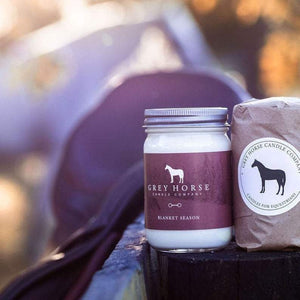 Grey Horse Candle Co.
Grey Horse Candle - Blanket Season - jar
Regular price
$24.00
$0.00
Unit price
per
For Equestrians, it's a bittersweet time of year. It means Winter has arrived, the barn chores are never ending, and it's also just plain freezing outside! But, despite all of the cold weather, you just love seeing your horse all cute and cozy while sporting his new Winter blanket. This scent is sure to warm your heart!
Grey Horse Candle Company uses all natural soy wax from American grown soy beans and premium grade fragrance oils. Each candle is hand-poured in small batches and contains a 12 ounce canning jar that may be reused for other purposes.
---